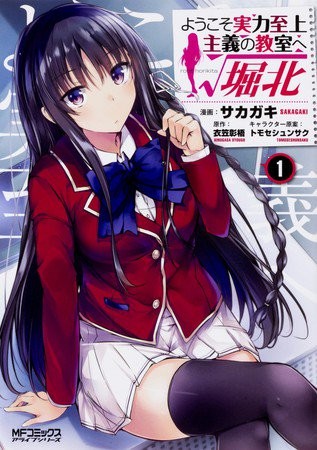 Sakagaki launched the spinoff manga in June 2017. Kadokawapublished the first volume on November 22, and will publish the second and final compiled volume on June 23.
Crunchryroll describes the story:
Ayanokouji Kiyotaka has just enrolled at Tokyo Koudo Ikusei Senior High School, where it's said that 100% of students go on to college or find employment. But he ends up in Class 1-D, which is full of all the school's problem children. What's more, every month, the school awards students points with a cash value of 100,000 yen, and the classes employ a laissez-faire policy in which talking, sleeping, and even sabotage are permitted during class. But among all the students who lead such self-indulgent lives, there is one who disagrees with it all and chooses to remain solitary, avoiding contact with others: the beautiful Horikita Suzune. She has figured out that, even though the school gives students huge amounts of money, it also offers many means of "assistance for students with no money." One month later, Ayanokouji, Horikita, and the students of Class D learn the truth of the system in place within their school...
Kadokawa's Media Factory Bunko J imprint published the first light novel in May 2015, and published the eighth novel on May 25.
Yuyu Ichino began publishing a main manga adaptation in Kadokawa's Monthly Comic Alive magazine in early 2016, and Kadokawa published the manga's sixth volume on April 23.