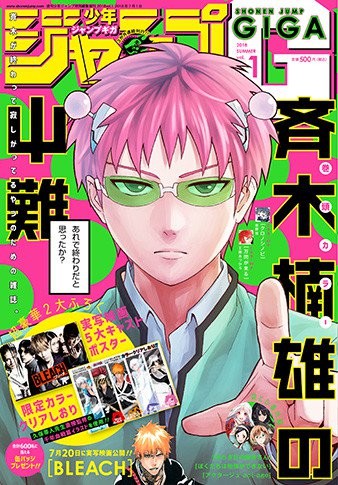 Asō ended the manga in this year's 13th issue of Shueisha's Weekly Shonen Jump magazine on February 26. However, the issue also stated that the manga's fifth anniversary "isn't over." Asō launched a four-panel sequel manga in Weekly Shonen Jump's 14th issue on March 5.
Asō launched the manga series in Weekly Shonen Jump in 2012 after drawing one-shot versions of the story in the Weekly Shonen Jump and Jump Next! magazines in 2011.
The manga centers on a high school boy named Kusuo Saiki. He possesses supernatural powers that cause unfortunate events in his everyday life.
The manga inspired an anime series of shorts that premiered in July 2016. Funimation streamed the anime series under the title The Disastrous Life of Saiki K. with English subtitles as it aired in Japan, and also streamed an English broadcast dub for the series. A second anime season premiered in January, and is ongoing.