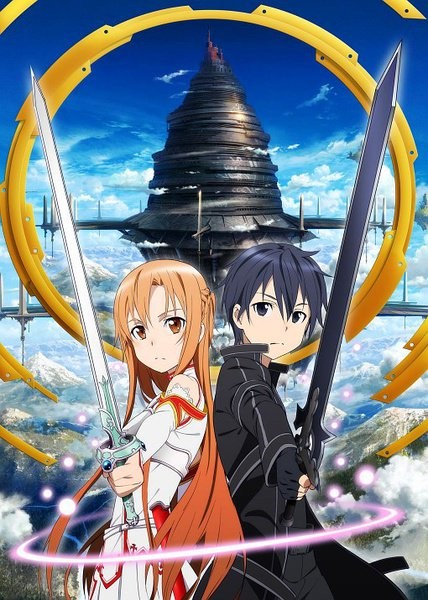 The website Goo Ranking held a poll to find out which light novel-based anime series are the most interesting. Voters had a large quantity of series to choose from as light novel anime becomes more and more common each season. Despite the plethora of choices, perhaps the most well known series to jump from the light novel pages still reigns supreme.
Reki Kawahara's Sword Art Online took first place with 406 votes. The anime series is gearing up for its third season focusing on the Alicization arc after four years off the airwaves. Kirito won over audiences after he found himself trapped in Sword Art Online. After escaping the clutches of the game and its creator, he, Asuna, and the rest of his MMORPG-playing friends continue to try out new fully-immersive gaming experiences and solve mysteries within the virtual world.
Second place went to a fairly new contender, Eromanga Sensei by Tsukasa Fushimi, the same author of Oreimo. The romantic comedy stars a pair of orphaned step-siblings, Masamune Izumi and Sagiri, who find out that they have worked together as a light novel author and illustrator for awhile.
Third place is the ongoing Monogatari series based on NisiOisin's supernatural light novels. The anime first debuted as an adaptation of Bakemonogatari and introduced vampire attack survivor Koyomi Araragi and his fellow classmates, all touched by various supernatural entities. Since its debut in 2009, the light novels have gone on to inspire a prequel film trilogy, six television anime arcs, and a net anime.
The top 20 most interesting light novel based anime according to Goo Ranking are:
Sword Art Online
Eromanga Sensei
Monogatari series
The Melancholy of Haruhi Suzumiya
Durarara!!
Slayers
Re:Zero
The irregular at magic high school
Kino's Journey
KONOSUBA
A Certain Magical Index
Hyou-ka
Full Metal Panic!
Baka and Test - Summon the Beasts
No Game, No Life
Overlord
My Teen Romantic Comedy SNAFU
Love, Chunibyo & Other Delusions!
Saga of Tanya the Evil
Oreimo